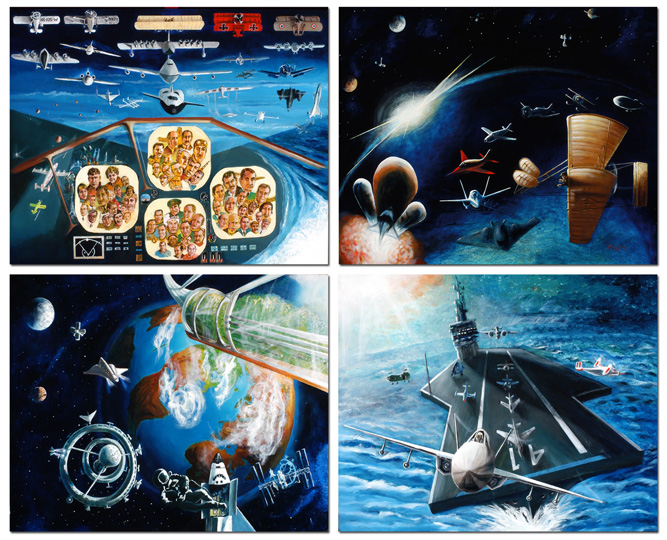 Wright to the Stars
Title: Wright to the Stars
Size: 96x72 Four 36x48" Panels
Medium: Oil on board

Artist J Quillian grew up with aviation as the son of FAA pioneer, Ruben M. Quillian. Quillian Sr. at one time was a manager of flight service stations covering urban and isolated stations in the Southeast and Southwest United States. To honor his father's career which began in 1939 when only five control towers existed nationally, JQ painted this four panel mural.

During his year-long process of research and execution, he was reminded of his father's encouraging words for his talent at painting and sculpture.

This 18 X 24" lithograph features over 150 pieces of equipment, 59 aviation pioneers and spans the entire 20th Century of aviation history. Such notables include the Wright Brothers for whom the work is named for along with Charles Lindbergh, Howard Hughes, Juan Trippe, and Amelia Earhart.

In 2005, Quillian was commissioned to paint a biographical portrait for American astronaut General Thomas P. Stafford's museum.

18 X 24" lithographs are available for $25 and also at wholesale to organizations or retail establishments.